Go back
MGD participated in "SRIJANYAM" Fest ,2020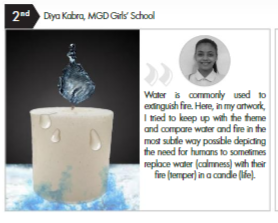 HEARTIEST CONGRATULATIONS !!
MGD participated in "SRIJANYAM" , an Online Inter School Art & Design Fest 2020 hosted by Assam Valley School .The Theme of the event was "Unlocking creativity in the new normal ".Total 41 schools participated in the fest.Our girls participated in all 8 events and secured 3 positions. .The list of the events are as follows:
PORTRAIT,POSTER DESIGN, CARTOON OR CARICATURE, DIGITAL ILLUSTRATION, DIGITAL IMAGING WITH PHOTOSHOP (SENIOR AND JUNIOR CATEGORY), PHOTOGRAPHY(SENIOR AND JUNIOR CATEGORY)
Winners
1)Diya kabra - 2nd position in Digital Imaging In Junior category
2) Suhani Mathur - 2nd position in Poster Designing.
3)Aanya Mehta - 3rd position in Poster designing