Go back
Fuchsia Fundraiser@ MGD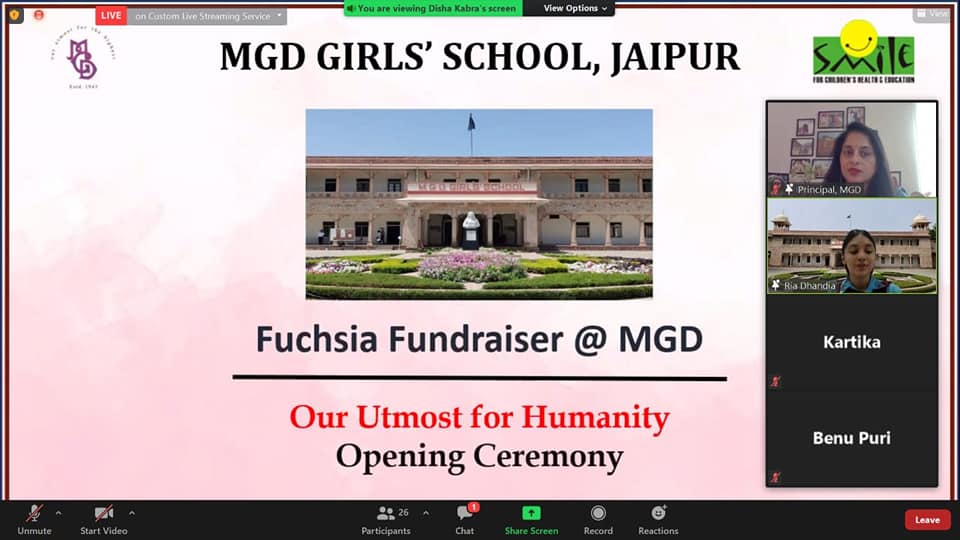 Maharani Gayatri Devi Girls' School, Jaipur hosted the 9th edition of inter-house literary and cultural event-Fuchsia under the Fuchsia Fundraiser@ MGD from 3rd to 25th June in collaboration with Smile Foundation with an aim to lend a helping hand to the underprivileged.
3rd June marked the commencement of the first ever virtual fundraiser by MGD with the Opening Ceremony followed by the '1st Round Table Conference' on 4th June.
The '2nd Round Table Talk show' on June 5 had Dr. Bhavya Soni, Mrs. Shikha Soni, and Mrs. Archana. S. Mankotia, Principal, Maharani Gayatri Devi Girls' School, Jaipur as panelists.
The second phase of the fundraising event included the virtual mini workshops on the art of Origami workshop, Post Covid Start-ups, Nutrition and Wellbeing, Skincare DIYs.
The third phase with skill-share workshops started with 13 consecutive workshops, ranging from Public Speaking, to Soap Making, to Theatre, Art and Painting, Clay Modelling, Language Enhancement, Chocolate-Making and Bread Baking workshops.
The school also organised 6 open competitions with a pan-India approach and got an enormous response from schools all over India.
The 9th edition of Fuchsia 2021, commenced on 16th June with a myriad bouquet of Cultural and Literary events being conducted across 4 days. The Florence Nightingale House and the Sarojini Naidu House were declared as the joint winners of the 9th Edition of Fuchsia during the Closing Ceremony on the 19th of June 2021 where the school also launched its first E-Book "Imprints on Heart" to commemorate the Reading Day.
The Fuchsia fundraising event came to a close through a humble Closing Ceremony on 25th June 2021, with the support from parents, students and teachers, the students successfully managed to raise 4 lakhs under the fundraising event- "Our Utmost for Humanity".