Go back
Rajmata Gayatri Devi Memorial English Debate 2021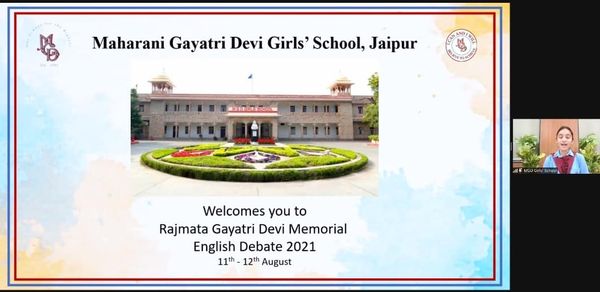 Rajmata Gayatri Devi Memorial English Debate 2021, was hosted virtually on 11th and 12th August 12, 2021 to mark the 78th birthday celebration of Maharani Gayatri Devi Girls' School Jaipur.
It witnessed participation of 18 schools from India and abroad.
The event was graced by Ms Mita Kapur, Founder, CEO of Siyahi as the Chief Guest and the Guest of Honor Mrs Archana S Mankotia, Principal MGD Girls' School, the Chairperson HH Maharaj Jaisingh Ji, members of the Board of Governors and MGD Guild, dignitaries and guests.
The panel of judges included Mr. Alok Sharma, Mrs. Namita Sharma, Dr. Rimika Singhvi, Ms. Nandika Kumari, Ms. Avani Singh, Ms. Putul Gupta, Ms. Bandan Preet Mahajan, Dr. Saikat Banerjee and Ms. Deepika Tandon.
The event comprised 3 rounds – The Speech Weavers (Declamation), Poetic Prism (Turncoat) and Persuasive Posse (Parliamentary Debate). Besides trying to decode the Quotes and Excerpts from poetry, and relate them to universal themes of hope, resurgence and compassion, participants from schools like MCGS and Mayo College Ajmer, Pinegrove School, RKK Jodhpur, The Lawrence School Sanawar, PPS Nabha, YPS Patiala, Daly College, Indore, FAIPS, DPS Kuwait deliberated with enthusiasm, confidence and gusto as they spoke on topics ranging from democracy to surveillance, formal degrees, beauty standards and online education.
The principal Mrs. Archana S. Mankotia talked about the origin of debating and the nuances involved. She also reminisced the founder Rajmata Sahiba's passion to see young girls growing up into strong women of substance. The Chief Guest applauded the participants for displaying immense confidence.
Ishaan Sharma of Rukmani Birla Modern High School was declared Best Speaker for The Speech Weavers, Tushita Agarwal from Mayo College Girls School Ajmer bagged the Best Speaker for Poetic Prism and a tie ensued for the Persuasive Posse between Mugdha Pareek from MGD Jaipur and Pragun Gupta from Daly College, Indore.
The debating team from MGD Girls' School comprising of Mugdha Pareek, Saanvee Tewari and Shivranjani Sharma worked under the guidance of Mrs Anjana Handoo.
Though MGD was declared the overall winner, keeping up with the School tradition, the trophy was finally bagged by the First Runner up Team, The Emerald Heights International School, Indore.
The two-day oratorical extravaganza was lauded by all participants and guests and turned out to be a stellar success.