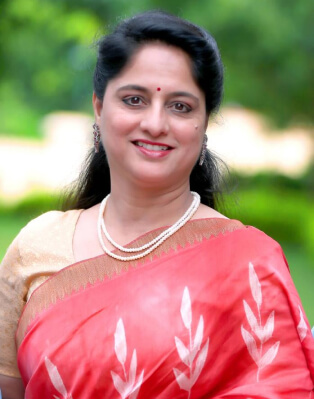 Dear Girls
Welcome to Maharani Gayatri Devi Girls' school !
A little girl enters the portals of MGD, hesitant, unsure, a bit awed by the large spaces, shy and awkward yet sweet and innocent and full of wonder….she hops, skips and jumps her way to find her class and among a sea of faces expectantly looks for her class teacher who alone appears as her redeemer.
Little does she realize that this is a new beginning, oblivious of the beautiful journey ahead.
Many years later, a smart young lady glides out of MGD gates, with an air of confidence, grace and self-assurance, well-groomed and well appointed, all set to take her place in the world and make a mark for herself.
This beautiful sojourn will be narrated by each one of the parents, when their daughter grows up to be the ideal MGDian after spending precious years in MGD.
And you dear girls are going to be the protagonist of this story and your own script writer.
We, at MGD, endeavor to create that environment where all our girls blossom, where learning is fun, acquiring of skill sets and knowledge is spontaneous and where personality develops through emotional and social bonding. Education imparted is lifelong and not just confined to books.
Maharani Gayatri Devi, through her astute futurist vision, envisaged to bring the women of erstwhile Rajputana out of the purdah. This was achieved not through diktat but through education. The opening of MGD in 1943, an all-girls' English medium school, a huge step towards empowerment and education of girls, was successfully achieved by the Maharani against much resistance. Hence, the very soul of MGD is a progressive institution with a graceful blend of traditional ethos and historical legacy which is what makes it unique, distinctive and one of its kind.
Life in MGD is a journey of self-discovery.
A warm welcome to all my girls and best wishes for a new beginning.
Archana S Mankotia
Principal